Tun Teja's Mausoleum, Malacca
---


Path to Tun Teja's Mausoleum in Merlimau, Malacca (30 December 2006)
© Timothy Tye using this photo





Tun Teja's Mausoleum is the final resting place of Tun Teja Ratna Benggala, the consort to Sultan Mahmud Shah, the last Sultan of Malacca. The mausoleum is located in Merlimau, Malacca, in the midst of paddy fields.

Tun Teja is the daughter of Sri Amar DiRaja, the duke or Raja Bendahara of Pahang Inderapura. At that time, Pahang Inderapura was a vassal state to Malacca. She is said to be a women of outstanding beauty who had been courted by many Malay princes seeking her hand in marriage. Even Sultan Mahmud Shah, the most powerful Malay ruler, wanted to make her his wife, but Tun Teja rejected his marriage proposal.

At that time, the Malay warrior Hang Tuah had incurred the wrath of Sultan Mahmud found himself exiled to Inderapura. While away in exile, Hang Tuah sought for a way to return to the king's good books, and decided one way to go about it was to present Tun Teja to His Highness.




Tun Teja's grave (30 December 2006)
© Timothy Tye using this photo


In order to get close to Tun Teja, Hang Tuah had to first befriend Tun Teja's chambermaid, Dang Ratna, to whom he offered gifts. Dang Ratna was easily won over. With her as his ally, he presented a set of exquisite textile to Tun Teja. However Tun Teja shiftly rejected the gift.

Left with little choice, Hang Tuah resorted to using a love potion, which he got Dang Ratna to sprinkle on Tun Teja's seat. The love potion made Tun Teja fall madly in love for Hang Tuah, and she consented in following him back to Malacca.

Together with her contingent of chambermaids, Tun Teja set sail with Hang Tuah for Malacca. Hang Tuah had in fact led Tun Teja to believe that they were eloping, as they left Inderapura without the knowledge or consent of her father, Bendahara Inderapura.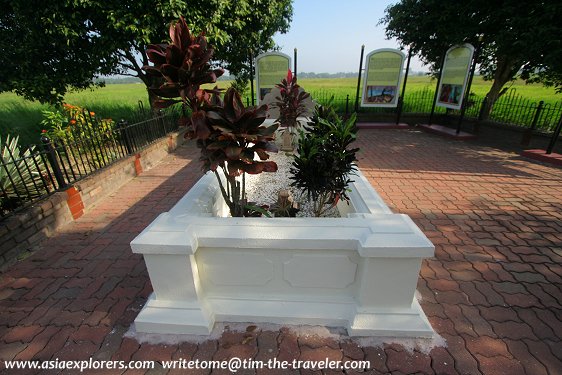 Front view of Tun Teja's grave (30 December 2006)
© Timothy Tye using this photo


When Bendahara Inderapura learned that his daughter has eloped with Hang Tuah, he sent his warriors the Laksamana and Seri Maharaja Lela to give chase. In the ensuring fight, Hang Tuah managed to defeat Inderapura's warriors.

Upon arrival in Malacca, Hang Tuah learned that the news of their arrival had reached Sultan Mahmud Shah, who had prepared a royal welcome for the princess. As she was paraded through Malacca, she began to realise that she had been tricked by Hang Tuah into following him to Malacca, and that she was in fact going to be married to the Sultan, not to Hang Tuah. Tun Teja was forced into the marriage, but the king loved her deeply, and over time, won her love in return.

In 1511, when Tun Teja was taken ill, the Portuguese under Afonso de Albuquerque launched his attack on Malacca. The royal family was forced to flee Malacca. Even though she was in no condition to move, Tun Teja had to evacuate from Malacca. She felt seriously ill and passed away when the royal family reach Merlimau.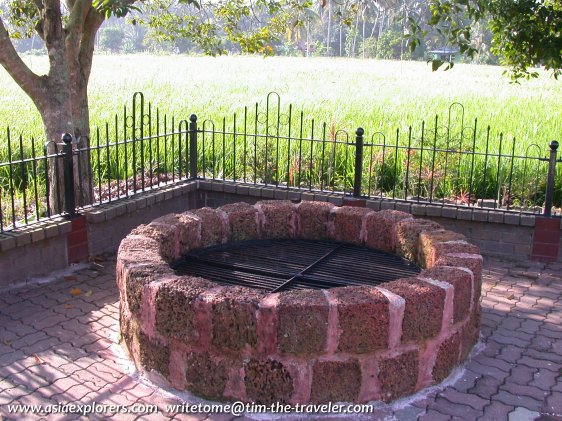 Well beside Tun Teja's grave (30 December 2006)
© Timothy Tye using this photo


The story of Tun Teja was related in Hikayat Hang Tuah (Adventures of Hang Tuah), one of the Malay literature. Several versions of the story exists today due to differing interpretations and oral traditions.

Tun Teja's Mausoleum is located along Jalan Merlimau (State Route M108), a country road off the main road (Federal Route 5) that goes from Malacca Town to Muar. There is a signage on the main road pointing the way to the mausoleum. Interpretive signs have been put up and the grave maintained.